BMW
118
Serie 1 (F40) 5p. Sport, PRONTA CONSEGNA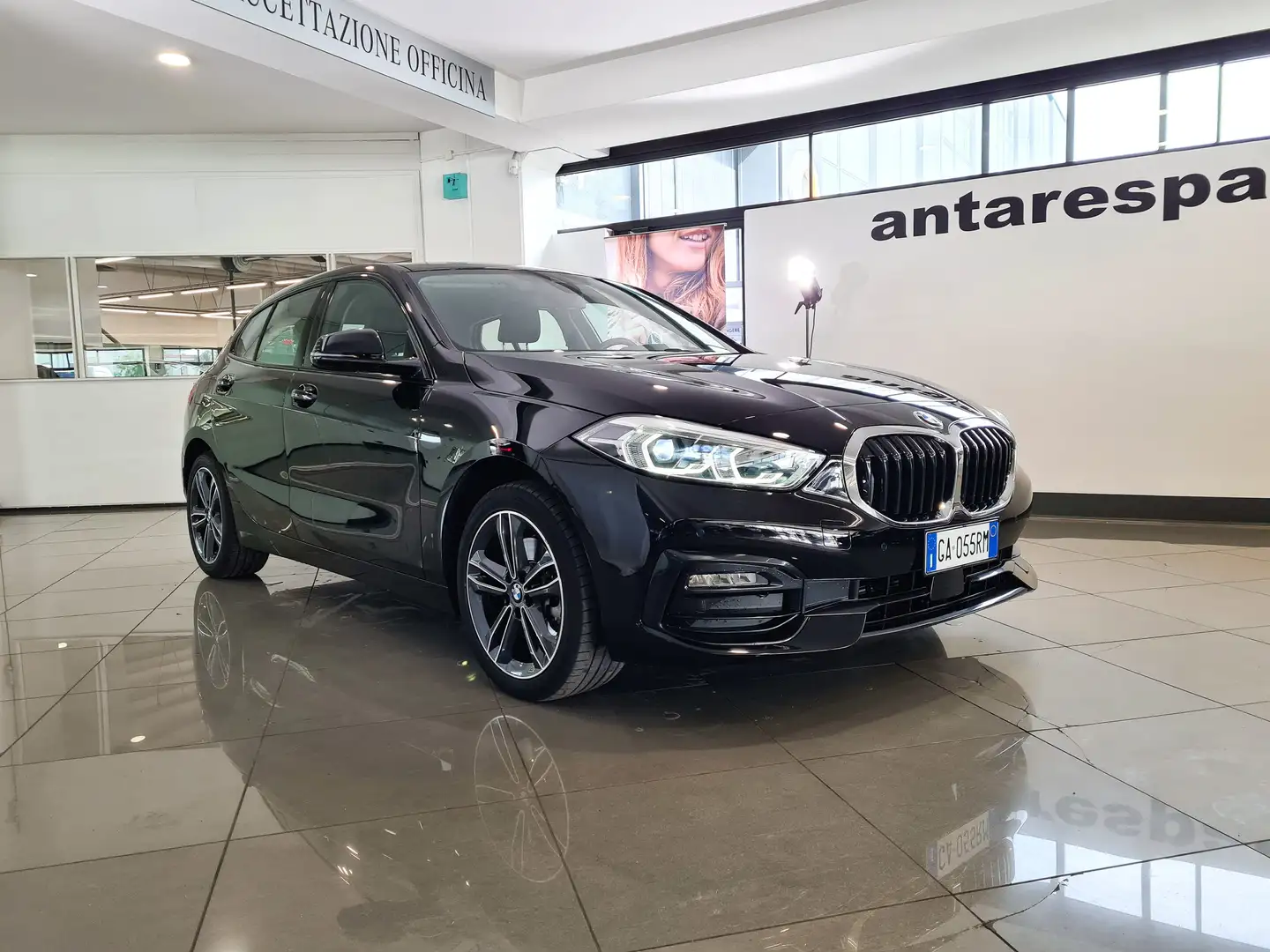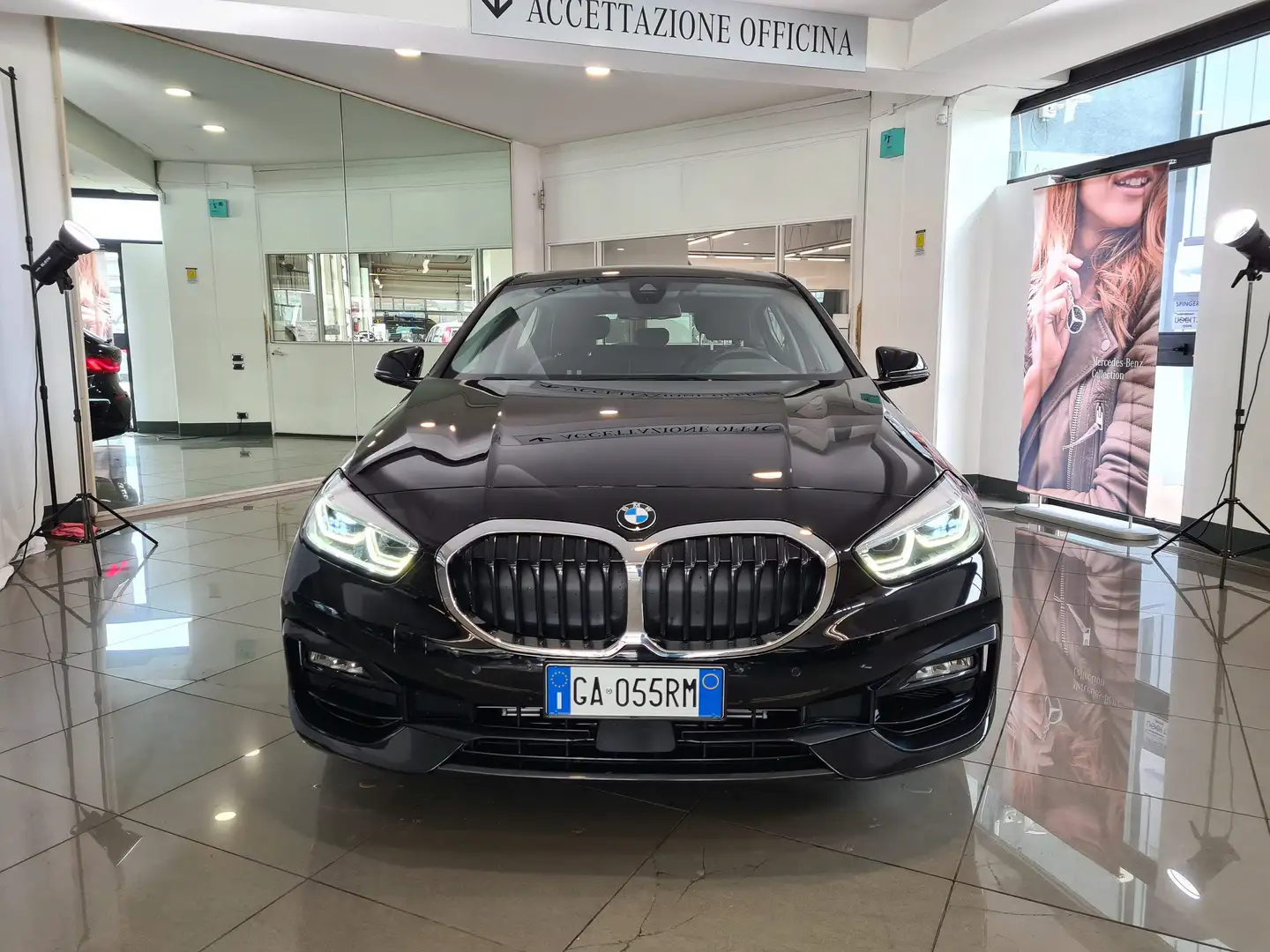 First registration
12/2019
---
Body type

Sedan

Type

Used

Drivetrain

Front
Seats

5

Doors

5

Country version

Italy

Warranty

12 months
---
Mileage

First registration

12/2019

Non-smoker vehicle

Yes
---
Power

103 kW (140 hp)

Gearbox

Automatic

Engine size

1,499 cc

Gears

8

Cylinders

3

Empty weight

1,365 kg
---
---
Fuel type

Gasoline

Fuel consumption

2

5.3 l/100 km (comb.)

7 l/100 km (city)

4.3 l/100 km (country)

CO₂-emissions

2

121 g/km (comb.)

Emission class

Euro 6d-TEMP
---
Comfort & Convenience

Air conditioning
Armrest
Automatic climate control
Cruise control
Electrical side mirrors
Hill Holder
Leather steering wheel
Light sensor
Multi-function steering wheel
Navigation system
Parking assist system sensors front
Parking assist system sensors rear
Power windows
Rain sensor
Seat heating
Split rear seats
Start-stop system

Entertainment & Media

Bluetooth
Digital cockpit
Digital radio
Hands-free equipment
MP3
On-board computer
Radio
USB

Safety & Security

ABS
Central door lock with remote control
Daytime running lights
Distance warning system
Driver drowsiness detection
Driver-side airbag
Electronic stability control
Emergency brake assistant
Emergency system
Fog lights
Full-LED headlights
Head airbag
Immobilizer
Isofix
Passenger-side airbag
Power steering
Rear airbag
Speed limit control system
Tire pressure monitoring system
Traction control
Traffic sign recognition

Extras

Alloy wheels (17")
Ambient lighting
Catalytic Converter
Electronic parking brake
Headlight washer system
Sport seats
Touch screen
---
Colour

Black

Paint

Metallic

Upholstery colour

Black

Upholstery

Cloth
---
Exclusive leasing offer from Antares Srl
One-time costs
Anzahlung

€ 0,-

Überführungskosten

€ 895,-

Zulassungskosten

€ 0,-

Gesamt, einmalig

€ 895,-
General data
Total lease amount

€ 12.432,-

Contract type

Kilometerleasing

Mileage p.a.

10.000 km

Leasing Factor

0,75
Monthly costs
Duration

48 Monate

Monthly installment

€ 259,-
Additional information
More km costs

€ 0,0000

Reduced km of remuneration

€ 0,0000

Effective APR

0,99 %

Debit interest born p.a

0,99 % gebunden

Net loan

€ 17.700,-
TIP
This invoice is an example - you can discuss your preferred rate with the dealer and agree on an individual leasing offer.
Loan brokerage through Hyundai Capital Bank Europe GmbH, Friedrich-Ebert-Anlage 35-37, 60327 Frankfurt am Main
Die Angaben entsprechen zugleich dem 2/3 Beispiel nach § 6a Abs. 3 PAngV.
---
---
***
SIAMO GLI UNICI CHE TI GARANTISCONO IL RIACQUISTO DELL'AUTO
***
E se vorrai finanziarla, pagherai solo i mesi del suo utilizzo
Decidi quanto tempo prevedi di utilizzarla ed i Km che farai
Ti comunicheremo immediatamente il valore a cui ci impegniamo a riacquistarla.
Alla scadenza potrai scegliere se venderla a noi o tenerla
Se vorrai finanziarla, potrai pagare le sole rate per i mesi di utilizzo dell'auto, inclusa l'assicurazione F.I.
Vuoi approfondire la conoscenza della vettura senza dover passare in concessionaria?
Invia un messaggio senza impegno su WhatsApp al +39 3484337329 scrivendo marca e modello della vettura e "VIDEOCHIAMATA"
Un nostro consulente ti proporrà una visita virtuale della vettura.
Cogli l'occasione e blocca l'auto senza impegno direttamente dal nostro sito con PayPal
Avrai 48 ore per visionare l'auto o per richiedere la restituzione dell'intera somma!
---
AUTO PERFETTA: SOTTOPOSTA A PIU' DI 100 CONTROLLI!!!
CHILOMETRI CERTIFICATI

GARANZIA 12 MESI
CONFORMGEST
COMPLETA DI:
TRAINO GRATUITO;
AUTO SOSTITUTIVA;
CHILOMETRI ILLIMITATI;
NESSUNA FRANCHIGIA;
NUMERO VERDE ATTIVO 24 ORE SU 24;
MIGLIAIA DI OFFICINE CONVENZIONATE IN TUTTA ITALIA ED EUROPA;
€500 DA SOTTOSCRIVERE AL MOMENTO DELL'ACQUISTO.
Dotazione:
DRIVE SELECT
CRUISE CONTROL
ADAS: LIMITATORE
FRENATA D'EMERGENZA ASSISTITA
RICONOSCIMENTO SEGNALI STRADALI
SISTEMA DI AVVISO A DISTANZA
SISTEMA RICONSOCIM STANCHEZZA
PDC SENSORI ANTERIORI, POSTERIORI
VOLANTE MULTIF. IN PELLE
SEDILI RISCALDABILI, SPORTIVI
MARMITTA CATALITICA
CERCHI IN LEGA DA 17"
SISTEMA CONTROLLO PRESS PNEUMATICI
SISTEMA CHIAMATA D'EMERGENZA
FARI FULL LED
RADIO MULTIMEDIA MP3 AUX USB SMARTPHONE, BT AUDIO
NAVIGATORE SATELLITARE
VOICE CONTROL
TEL. BLUETOOTH
SPECCHI ELETTRICI RICHIUDIBILI
CLIMATIZZATORE AUTOMATICO BIZONA
COMPUTER DI BORDO
...e una ricca dotazione di serie!
Finanziamenti
e
Leasing
personalizzati per le Vostre esigenze.
Ti piacerebbe tutelare il tuo acquisto?
Cristalli, atti vandalici, scontro con animali, grandine, incendio, terzi non assicurati, furto, rapina con il valore a nuovo fino a 4 anni dall'acquisto!
Significa che anche dopo 3 anni, 11 mesi e 29 giorni ti verrà rimborsato l'intero importo speso al momento dell'acquisto (perfino le spese di passaggio)!!!
I nostri consulenti sono a completa disposizione per illustrarti senza impegno queste opportunità.
In caso di
permuta
, indica: marca, modello, colore, mese ed anno di immatricolazione, chilometri, accessori principali, cambio, KW/CV e stato della vettura (meglio se con foto allegate). Con queste informazioni potremo risponderti più velocemente.
N.B.
La dotazione tecnica e gli accessori indicati nella presente scheda potrebbero non coincidere con l'effettivo equipaggiamento del veicolo, a causa della non uniformità dei dati pubblicati dai diversi portali. Ci scusiamo per l'eventuale inconveniente e vi invitiamo a verificare le caratteristiche dello specifico veicolo. ANTARES SRL/Il Valutatore SRL declinano ogni responsabilità per eventuali involontarie incongruenze, che non rappresentano in alcun modo un impegno contrattuale
---
PARMA (auto Mercedes-Benz)
---
---
---
---
1

VAT deductible

2

You can obtain more information on the official fuel consumption and official specific CO2 emissions of new passenger vehicles from the guideline on fuel consumption and CO2 emissions of new passenger vehicles. This guideline is available free of charge at all dealerships and from Deutsche Automobil Treuhand GmbH at www.dat.de.

3

Dealer price

;
{"vat":"0","art":"6","carby":"0","stccm":"1499","buyonline":"true","fr":"10","stkw":"103","zip":"IT43036","model":"18481","equi":"110,37,138,115,5,10,142,42,125,46,29,121,1,117,38,21,137,224,124,13,129,41,134,128,2,34,148,45,161,149,12,159,113,219,240,3,162,150,127,31,43,26,114,23,146,30,190,19,239,126,47,15,227,122,232","mia":"false","sthp":"140","leasing":"false","miles":"2","img":"https://secure.pic.autoscout24.net/images-big/716/207/0424207716001.jpg?9f90f567f7996f1b528d3ac829940516","price":"5","seg":"compact","rnd":"87","ECO":"YES","stmak":"BMW","fuel":"B","kenteken":"false","did":"19972183","stmil":"20000","gear":"A","stmod":"118","cost":"28400","detailpageUrl":"https://www.autoscout24.com/offers/-1a94ce86-aa1c-423e-b011-0d53a7c28166","stmon":"12","styea":"2019","carid":"424207716","make":"13","ad":"dealer","acc":"U","hp":"6","type":"U","zip2":"43036","articleType":"C"}
---